The story of Rowdy O'Reilly started circa 2010 in Manistee, Michigan when I went to see an old friend of mine (Shaun Anchak) play in an Irish trio pub band called the Blackhouse Monks. I had played in a band years before with Shaun when he lived in the Pontiac area playing mostly pop rock. I had no idea what an experience it was going to be when I first heard the Blackhouse Monks play. At that time Irish Music was new to me but instantly I took to this trio's rowdy renditions of Irish pub drinking songs. Even though I never heard these songs before I was able to sing along with the band and everyone else in the place that night.
Years later after the Monks had broke up, Shaun formed an eclectic duo with Melonie Steffes in the Traverse City area called Saldaje and I formed an island summer band called Sonovabeach back home in Waterford with Patrick Fitzgibbon and the Grodzicki brothers. Sonovabeach took the attitude of the Monks and applied it to surf/island music Once Sonovabeach's steel pan player left to study in Africa, the band broke up finding it impossible to replace someone of Patrick's abilities.
Once the beach band idea was dead, I didn't hesitate for a moment to form an Irish band using the same winning formula that worked so well with Sonovabeach and the Blackhouse Monks.
PROFILES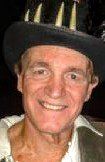 Rowdy O'Reilly
Rennaisance O'Reilly
Frankensence and Myrth
AsherTodorovsky (guitar, banjo, mandolin, harmonica, vocals, bad jokes)
​​​​ was born in Pontiac, Michigan. He started playing guitar after seeing the Beatles on the Ed Sullivan show. The British invasion and garage rock were his early influences.
Comedy and the appeal toward the outrageous lead him to join up with the apocalyptic be-bop group the Tulsa City Truckers in late 70's with members of the Ragnar Kvaran Group. The band's claim to fame was playing at Bob Zilli's Latino Ballroom backing up the late great Frank Zappa protege Larry "Wildman Fischer" and having it's release of the single 45, Jonestown Kool-aid, making the play list on Dr. Demento's Radio show.
In the past he played with Rabble, an original contemporary pop-rock group and island music with Sonovabeach. Two of Sonovabeach's originals, "Jobbie Nooner" and "Beach Party" were used in the locally-shot movie entitled "Jobbie Nooner-Gull Island. Currently five of their originals can be heard and bought on Beachfront Radio . Asher also plays in a Latin-Jazz duo called Agave.
Rowdy O'Reilly
Rennaissance O'Reilly
Frankensense and Myrth
Brigid Gurchiek (bass, vocals, whip cracker)
was born and raised in Novi, Michigan. She started playing bass at the tender age of 12, and other than a few hiatuses, spent a better part of her spare time in and out of a varity of musical groups. While in high school, she performed as the bass accompanist for the vocal-jazz group, The Westernaires and afterwards, she spent a few years with an all-girl power trio, The Brats. Other bands included The Pulse, Just-uus and Charisma.
Brigid spent two years studying bass with Chuck Bartels (Thornetta Davis, Betty LeVette) and has been seen around the area as an accompanist for the Thistle Rose community choir, often with her husband (see bio below) Mike Gurchiek.
---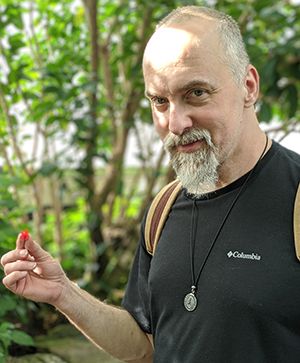 Rennaissance O'Reilly / Frankensence and Myrth
Mike Gurchiek (drums, djembe and other percussives) started his drumming career in elementary school and was influenced by latin beats. He got his first drum kit - Rogers five-piece with the Butcher Block finish in 7th grade as a confirmation present from his parents. He finds this a bit ironic as all Hell pretty much broke loose when he started playing rock and roll with his buddys soon after. He enjoyed steady gigs all the way though high school, college and even a few years after. He's back at it again after a hiatus and has added the West African Djembe to his repetoire. He also plays a pretty wicked woodblock tree.
---
Rowdy O'Reilly

Bill Doral (drums) is from Rochester, Michigan and has played in 1776 later known as The Tea. His group covered the Birds song that became a hit single for them on the commercial air waves, Jesus is Alright. It fell from the charts when the Doobie Brothers covered the same song soon after, and radio stations and major record companies pushed that version.

Rowdy O'Reilly

Frankensence and Myrth

Joanne Wisti - (fiddle) Joanne graduated from University of Michigan and lives in White Lake. She teaches privately and is a member of the Saginaw Bay Orchestra. She loves to ice dance and horseback ride. Joanne will be playing saint Patrick's day events and festivals with Rowdy O'Reilly as well as playing the fiddle with Frankensense and Myrth during the holiday wassail season.

Rennaissance O'Reilly

Kathy Kearney- (fiddler) Kathy is a veteran fiddle player around Southeastern Michigan. She has played with Dragons Tail and Shamrock Shores which has produced numerous CDs and is also a member of the Irish Ancient Order of Hibernians.

Kathy is a fine addition to Rowdy O'Reilly as we prepare for the next Renaissance festival in Holly Michigan.